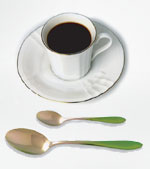 As titanium has superior corrosion resistance, it does not rust, nor does it ionize. Hence, you will never receive a metallic taste while utilizing our titanium utensils. You can enjoy the true flavor of your meal with our utensils.
Unlike others, experience the beauty of colored titanium utensils. The surface of these titanium utensils have gone through special surface treatment process, by being coated by a thin film of titanium dioxide (TiO2). When this surface film of titanium dioxide is exposed to light, the surface emits beautiful colors, similar to that of rainbows.
Furthermore, our colored titanium utensils have antibacterial characteristics due to photocatalytic effects produced by the titanium oxide surface, which will assist with keeping out utensils hygienic.
Colors
| | | |
| --- | --- | --- |
| Titan Platinum | Titan Silver | Gradation Gold |
| Titan Gold | Gradation Pink | Gradation Green |
Variations
Titanium Coffee Spoon

TC-01

Titanium Ice cream Spoon

TC-02

Titanium Cake Spoon

TC-03

Titanium Kiwifruit Spoon

TC-09

Titanium Dessert Spoon

TC-04

Titanium Dessert Fork

TC-05

Titanium Cutlery Spoon

TC-21

Titanium Cutlery Fork

TC-22

For children

Titanium Child Spoon

TC-06

Titanium Child Fork

TC-07
Specifications:

Product No.

Name

Length

Weight

TC-01
Titanium Coffee Spoon
121mm
6g
TC-02
Titanium Ice Cream Spoon
135mm
8g
TC-03
Titanium Cake Spoon
137mm
8g
TC-04
Titanium Dessert Spoon
180mm
20g
TC-05
Titanium Dessert Fork
180mm
15g
TC-06
Titanium Child Spoon
140mm
12g
TC-07
Titanium Child Fork
140mm
10g
TC-21
Titanium Caterary Spoon
163mm
16g
TC-22
Titanium Caterary Fork
161mm
14g